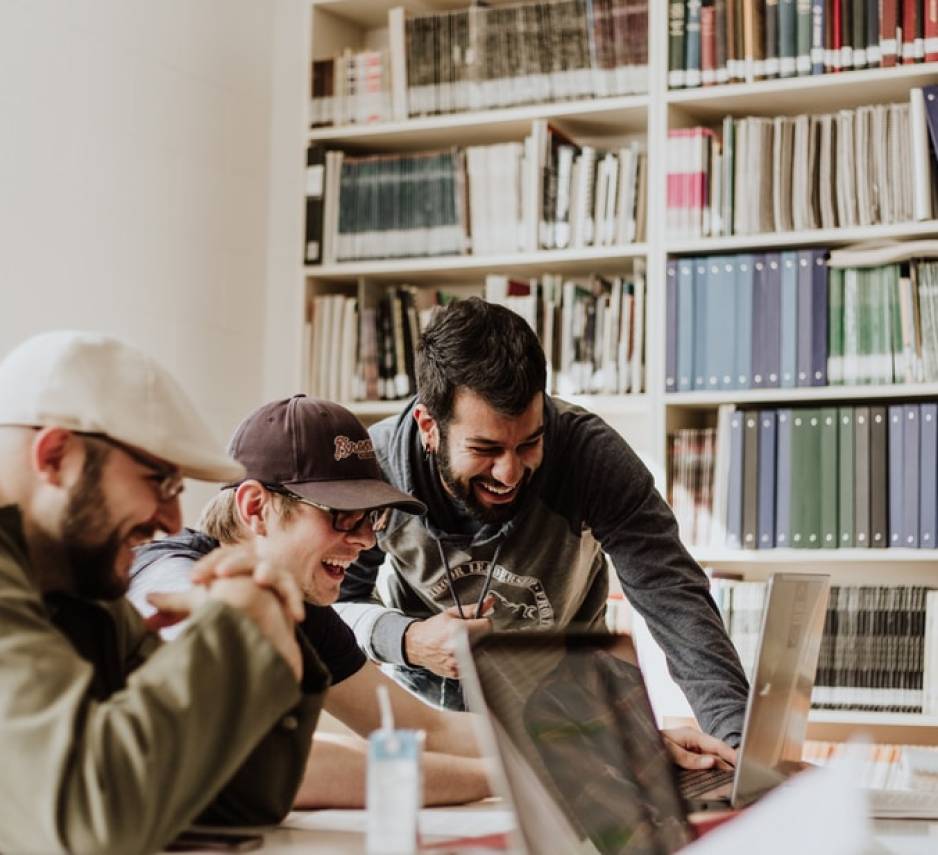 Who we are
We're Blankfactor. We help businesses innovate and scale. A spirit of collaboration and reliability drives the work we do. With offices in the United States, Colombia, Costa Rica, and Bulgaria, we embrace and leverage the culture of our workplaces, creating a global mindset and presence. 
We value what made us who we are: expertise, motivation, loyalty, and commitment to excellence. We develop strong professional relationships with partners and clients to create exceptional products by catering to each other's strengths and ideas. 
Our offices
Our offices are strategically located with the needs of our clients in mind. In our years of working in this space, we've learned that clients want great talent available in time zones that match their project needs.
Cultural alignment is also essential: there needs to be shared context for easier, better communication.
Blankfactor is located in strategic locations that best meet those crucial needs.
How we do it
From square one, we guide shape, direction, and scale to create the project you want. 
We're also able to just jump into any of your projects, regardless of the business phase they're in. 
And how do we do that?
Our history
Blankfactor was founded in 2015 by a small team of engineers and tech consultants who were committed to deliver tech solutions in a different way. They strove to create sophisticated products, completed with great care, a passion for quality and a client-centric approach. Understanding this as an incredible opportunity,
Blankfactor began to grow and innovate by looking for untapped talent in geographic locations emerging at the forefront of technological innovation. Their idea was not only to find great professionals, but also to become members of the communities they operate in and create new business opportunities in these regions.
In 2016, Blankfactor set up its first operation center in Colombia. The Latin American region is emerging prominently on the fintech industry map as a key location that will shape the financial landscape in years to come.
But we're not stopping there. Our global presence is expanding to other continents, and especially in Europe and Eastern Europe.
Considered the epicenter for the future of fintech, the European market is known to be highly competitive and innovative.
This is why, in early 2021, we opened a delivery center in Sofia, Bulgaria, where we have depended on talent for years. We'll continue to grow as a means of helping more clients achieve their goals, develop new capabilities, and bring new products to life while building long-lasting, meaningful relationships with them.
Executive team
We believe in the best talent. A powerful combination of industry leaders to deliver an exceptional service to our clients.
The founder and CEO of Blankfactor, Mike has a broad range of experience working closely with Fortune 100 companies, bringing groundbreaking growth strategies and technological innovation to payment processing businesses. 
Mike is an alum of the University of Florida, and he has been a serial entrepreneur since his teenage years. He has founded and successfully exited multiple enterprises, with Blankfactor building upon his years of expertise. Under his stewardship, Blankfactor is experiencing unprecedented growth leveraging the latest technologies in the fintech industry. 
Mike is never far from his laptop or phone, but he's always up for a travel or boating adventure.
Melody Pak
Managing Partner
Melody describes herself as secretly introverted and surprisingly amelodic. A graduate of Yale University and Stanford University, Melody has been immersed in the tech space for over a decade, focusing on program management and product innovation. Melody has overseen the creation and successful expansion of products impacting over a million users.
When she's not helping clients leverage the latest technology to solve their thorniest dev needs or reading up on the latest innovation, you might find her traveling the world searching for the best street food.
Jeffrey Wear
Chief Revenue Officer
One of Blankfactor's earliest board members, Jeff is a lifelong entrepreneur with 35 years of experience, most notably as President and CEO in the luxury retail goods sector. With his most recent successes in the yachting industry, his strengths include team-building, increasing sales, and driving company value in the private and public sectors. Jeff is currently spearheading our efforts to open new global hubs that continue to deliver timely, world-class software solutions. 
When Jeff is not in the office, you'll find him on his boat in the Florida Keys or the Bahamas. His extensive experience as a captain and navigator provides transferable expertise charting a steady course for our rapid growth. Jeff's passion for the water is only second to his love for his family.
Joseph Aglio
EVP Global Sales
As Executive Vice President of Global Sales, Joe oversees the global sales and revenue of Blankfactor's services. Joe's efforts drive the company's position as a leading professional service & digital transformation partner. Throughout his career, Joe has thrived on building diverse teams and fostering a culture of collaboration ideal for developing scalable solutions. Joe has spent more than 15 years in executive Business Development roles in the digital services and software engineering space strategically transforming businesses across all industries, worldwide. 
His passion for driving revenue growth is only matched by his love for the outdoors, baseball, and spending time with his beautiful family.
Martín Alfieri
Chief Delivery Officer
With 15+ years of experience in IT, Martín brings a long track record to the table. He has a long history of success building and leading high-performance teams across multiple verticals for clients of all sizes.
Having worked for top multinational companies and start-ups, he's a firm believer in transparent and honest communication as the foundation for lasting partnerships. Martín's philosophy is to foster collaborative work environments with customers and team members to take relationships to the next level.
Passionate about endurance sports, Martín can easily be found running ultra-marathons up in the mountains or training for long-distance triathlons.
Scott Carcillo
GM, Payments
With a track record of almost 25 years in the technology business, Scott also holds over 13 years of experience in the payments industry.
He constantly puts all of his extensive background to work on our clients' journeys. Devoted to bringing new partners on board with us, he's helping us build long-lasting relationships with our existing customers. Scott constantly makes sure that anyone working with Blankfactor is more than happy with the results we deliver.
Additionally, Scott guarantees our teams have plenty of opportunities to grow, learn, and have fun.
On another note, he's a huge Philadelphia sports fan. That passion must run in the family: his youngest daughter plays volleyball and his eldest just graduated from the University of Kansas where they won the NCAA basketball tournament.
Wish to join the team?
We're looking for people who embrace innovation, want
to do excellent things, and enjoy bad puns.